What is the M-Star Exam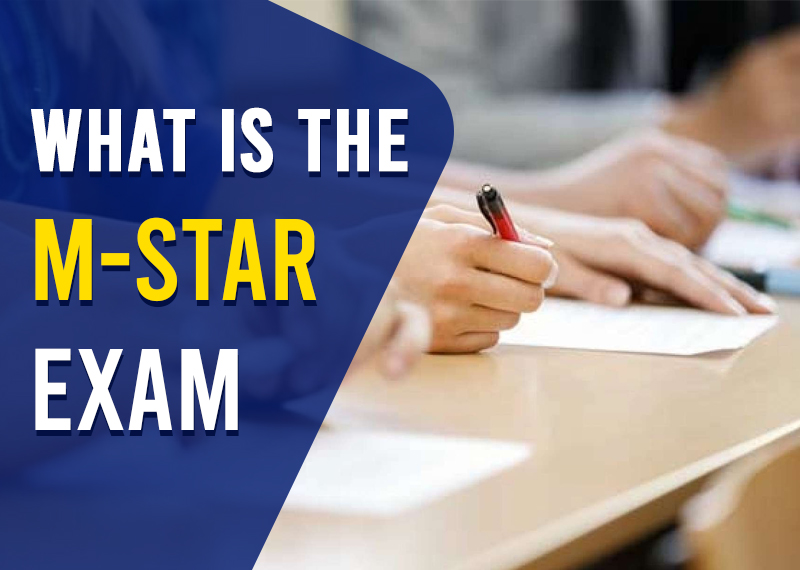 Introduction
M-STAR program stands for Momentum Scholarship Test for Admission and Scholarship Reward. This is a talent search program in Eastern UP. M-STAR approach is the same for which the Momentum coaching institute is well known. The examination is well-coordinated and organized so that it is available to students in any part of Easten UP, and they do not need to leave their hometown and go to some other place to appear for the Scholarship Test. They can give the test in a systematic and disciplined way in the peaceful environment of their home place.
M-STAR is the first of its type in Talent search and rewards in the country and provides a platform for Bihar and Eastern UP students. This program aims to discover talent and promote students through an innovative and original approach. The best IITians and doctors are the products of rigorous research that M-STAR does in filtering out the best talents from its IIT Coaching in Gorakhpur.
M-STAR encourages students to highlight their strengths and makes them more confident to face competitive exams in future. The various editions of M-STAR before were immensely successful and helped students build promising careers. The new structure on M-STAR is more polished and has a better reward system than before. To register for M-STAR Exam Visit - https://www.momentum.ac.in/mstar
Who can apply for this scholarship?
Students from specific age groups can appear for this examination. Students studying in classes V, VI, VII, VIII, IX, X, XI and XII can apply.
Class

Total 100 inclusive Question

Total No. of Questions Subject wise

Maths

Physics

Chemistry

Biology

Science

Mental Ability

English

V, VI and VII

60

15

-

-

-

15

15

15

VIII and IX

60

20

10

10

10

-

10

-

X, XI and XII (Medical Aspirants)

60

-

15

15

15

-

15

-

X, XI and XII (Engineering Aspirants)

60

24

12

12

-

-

12

-
Examination details: The Optical Mark Recognition (OMR) sheet will consist of 300
multiple-choice questions that are to be filled up.
Examination Duration: 2hours
Rules for Marks : +5 marks will be awarded for each correct answer. -1 mark will be
deducted for incorrect answers.
Examination Fees : Rs. 100/- inclusive of GST
What are the benefits?
Students can opt for any stream to be eligible for the scholarship
The charges are not applicable for students of classes V, VI and VII
For each class, a Merit List will be give out separately
SCHOLARSHIP

Engineering | Medical | Foundations

Category

M-STAR Rank

Tuition Fee

Registration Fee

Admission Fee

Examination Fee

Books

A

1-10

100% waiver

100% waiver

100% waiver

100% waiver

100% waiver

B

11-20

100% waiver

Chargeable

100% waiver

Chargeable

Chargeable

C

21- 50

80% waiver

Chargeable

Chargeable

Chargeable

Chargeable

D

51 - 100

60% waiver

Chargeable

Chargeable

Chargeable

Chargeable

E

101 - 200

40% waiver

Chargeable

Chargeable

Chargeable

Chargeable

F

201 -500

25% waiver

Chargeable

Chargeable

Chargeable

Chargeable
Cash Awards
The course will reward the top 100 Students from each class with certificates and Medals. The students will also be eligible for Cash Awards. The Cash Awards is only for students who join the Momentum Classroom Course.
| | | | |
| --- | --- | --- | --- |
| Rank | Medals | Amount | Certificate |
| 1 | Gold Medal | Rs. 20,000/- | Merit Certificate |
| 2 | Silver Medal | Rs. 15,000/- | Merit Certificate |
| 3 | Bronze Medal | Rs. 10,000/- | Merit Certificate |
| 4 to 10 | - | Rs. 5,000/- | - |
| 11 to 50 | - | Rs. 2,000/- | - |
| 51 to 100 | - | Rs. 1,000/- | - |
| 101 to 500 | - | - | - |
Terms and Conditions for Cash Awards
Cash Awards are disbursed to the eligible students in two equal instalments. The first instalment of the award will be given by 15 June 2022, and the second instalment of the award will be given by 15 November 2022.
The Cash Award to the students is paid only by cheque.
A student must ensure a minimum of 85% attendance in classes and examinations conducted by Momentum to be eligible for Cash Awards. If they fall short of these criteria's, the Cash award instalment will be discontinued.
A student also has to maintain good academic performance. A minimum of 50% marks in all assessment tests conducted by Momentum is required to continue Cash Award Disbursement.
The final decision concerning attendance and 50% marks vests with the Chairman & Managing Director of Momentum. The decision will be final and binding on student and their parent.
A student will be disqualified with the M-STAR scholarship and Cash Award scheme if they are found to indulge in unfair means during an M-STAR examination.
Registration Details
The last date of Registration is 17 December 2021. The duly filled enrolment form should be sent to the Momentum Centre by post, hand or online.
The examination will be offline.
The examination will be held on 19 December 2021(Sunday) from 11.30 AM to 1.00 PM.
The M-STAR examination centres are Gorakhpur, Siddharth Nagar, Kushalnagara, DeJoria, Barragan, Khalilabad and Basti Maharajan.
The results will be announced on 31 December 2021, and they will be displayed on the website www. Momentum.ac.in
About Momentum
Momentum at Chhatra Sangh Chowk, Gorakhpur, was founded in 2004 by Er. Sanjeev Kumar. The JEE MAIN Coaching institute in Gorakhpur revolutionized NEET coaching, IIT-JEE and Foundations in Eastern UP.
Momentum students have taken advantage of its scholarship and cash reward schemes. They have grabbed top ranks every year in IIT JEE Exam and other state engineering exams. Momentum learning programs focus on individual attention and strive to improve students' conceptual skills, which is the most important factor for success in competitive examinations like IIT JEE and NEET.