A Motivator And Competent Leader Of Momentum Er Sanjeev Kumar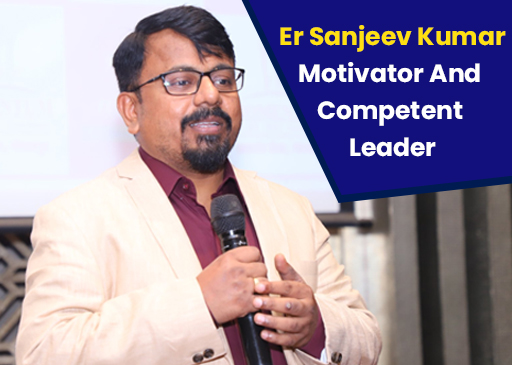 Whether it is an office or Learning Institute, a competent leader must step in when more demanding situations occur. Other than that, a consistent supply of positivity is probably the best to keep everything running smoothly and calmly. Momentum institute was founded by competent Leader Er Sanjeev Kumar, who completed his B. Tech from IIT Dhanbad. As a former IIT graduate, he knows how to build a mind that will outperform in Exams and be forever zealous to work hard and succeed everywhere. His vision and motive to provide the best IIT Coaching in Gorakhpur have been possible only because of his persistent direct influence. The man is visionary, empathetic, and focused on the Institute and its students' careers. Here is how he instructs teachers and indirectly assists the students with catching their dreams.
Motivator:
At Momentum, Er. Sanjeev, the chairman, encourages students to reach their peak capacity to study well. He conducts motivational talks to batches so that they increase their efforts, stay regular and use the means provided by the Institute well so that it benefits them the most in making careers.
Establish Esprit de Corps:
He ensures that children collaborate with one another and concentrate on valuable lectures from teachers in order to grasp their concepts properly. Moreover, children are also urged by him to take part in discussions as well as not skip classes. Thus, students' morale-building exercises play a crucial role in winning their desired results. An inspirational leader like him boosts willingness, enabling students to focus on studies more enthusiastically. More effort will provide effective results.
Faith:
While some kids may express a lack of confidence when taught unfamiliar topics, equations, and complex concepts, his passion and qualified teachers will do anything possible to inspire confidence in them. He listens to criticisms and problems that arise in the academy while also delivering good notes on students' performance. He regularly attempts to show belief in children's abilities so that they remain motivated toward their objectives.
Guidance:
Chief here at Momentum makes sure to give students direction so they can bring out the best in themselves and be consistent and efficient in their studies. Because of his constant steps, Momentum has become the top choice of students for NEET Coaching in Gorakhpur.
Talent Finder:
Under his guidance, the academy incorporated the M Star test that is dedicated to hunting talent and providing scholarships and rewards.
As they say, influential leaders can see the potential of their team members and choose the appropriate role for individuals. He guides teachers in analyzing a child's performance and gives them the right suggestions for future studies. Thus he shines as a good leader of the Institute.
Observer:
He introduces newer things, materials, and test series whenever needed. He will describe the plan of action to the team and faculty and express the rules that must be followed when coaching. Thus he contributes to giving children a better future.