JEE Main 2023: Exam Day Instructions and Guidelines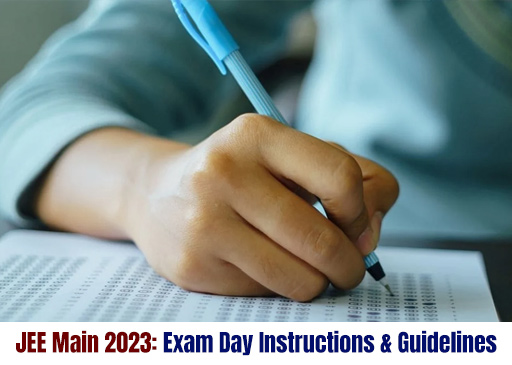 The Joint Entrance Test (JEE) Main 2023 is a prominent entrance exam for students seeking admission to India's best engineering institutes. The National Testing Agency (NTA) will administer the test in several shifts throughout the month of April 2023.
When test day approaches, students must be informed of important instructions and recommendations to ensure a smooth and successful exam experience. We, as a provider of the Best Coaching for IIT-JEE Test Series, have prepared some vital tips and instructions to assist JEE Main 2023 applicants to prepare for the big day.
Arrive at the Exam Center on Time:
It is essential to be at the test site well before the reporting time specified on the admission card. Under no circumstances are latecomers permitted to enter the test venue. Hence, prepare ahead of time and be at the center at least an hour before the reporting time.
Carry All Necessary Documents:
Students must bring their admit card, valid photo ID evidence (Aadhaar card, PAN card, Voter ID, etc.), and a passport-sized picture to the test. Candidates will not be permitted to enter the test venue unless they have these documents.
Observe the Dress Code Guidelines:
The National Testing Agency (NTA) has established a dress code for JEE Main 2023. Pupils must dress in light-colored clothing with half sleeves and avoid anything with too many pockets, large buttons, or zips. Candidates must wear slippers or sandals instead of shoes or socks.
Carry No Banned Items:
Applicants are expressly barred from bringing any electronic devices, such as mobile phones, smart watches, calculators, and so on, into the test venue. They are also not permitted to bring any papers, notes, books, or other items. Infractions of these regulations may result in disqualification.
Understand the Test Pattern:
JEE Main 2023 will consist of three papers: Paper 1 (B.E./B.Tech. ), Paper 2A (B.Arch. ), and Paper 2B (B.Sc). (B.Planning). Each examination will have various parts, and applicants must be informed of the exam schedule ahead of time to minimize confusion and properly manage time.
Effective Time Management:
JEE Main 2023 is a timed test, therefore applicants must manage their time efficiently in order to complete all of the questions within the allotted time range. Students must prioritize each area depending on their talents and shortcomings.
Momentum offers NEET Coaching in Gorakhpurwhere you can learn time management effectively. With this in mind, it's important for aspiring test takers to be prepared and make sure they have the tools and resources to succeed.
Read the instructions thoroughly:
Before beginning the test, students must carefully read all of the instructions on the question paper and OMR sheet. Students must also check that they have got the right question paper as specified on their admission card.
Valid ID Verification:
Candidates must bring a valid picture as on the ID evidence, such as an Aadhaar card, PAN card, voter ID, or passport, in addition to the admit card. The ID must be authentic and not expired.
Time Administration:
On the day of the test, applicants must efficiently manage their time. Students must arrive at the test site at least an hour before the reporting time specified on their admission card. This will allow them to complete the security checks and other procedures before the test.