Taking Aspirations to Reality Coaching for JEE Main and JEE Advanced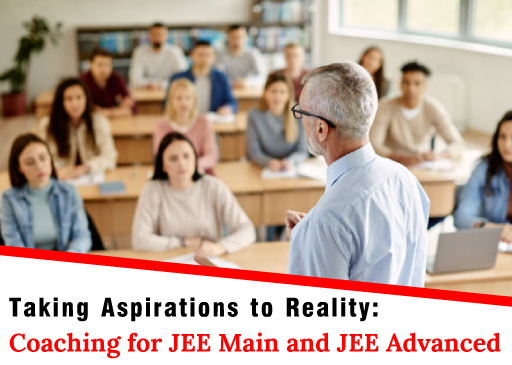 Among the most competitive and challenging entrance examinations in India, the Joint Entrance Examination (JEE) is one of the most popular, with more than 16 lakh students taking part in it every year. The JEE Main is the first stage of the examination, while the JEE Advanced is the second and final test. Both exams are crucial for admission to the prestigious Indian Institutes of Technology (IITs) and other top engineering colleges in the country.
Preparing for JEE Main and JEE Advanced can be a daunting task for many students, as it requires a strong foundation in mathematics, physics, and chemistry, along with excellent problem-solving and time management skills. That's where JEE Main and JEE Advanced coaching institutes come in. These institutes provide students with expert guidance and support to help them achieve their engineering dreams. Our experienced and dedicated institute has been providing JEE Main Coaching in Gorakhpur examination for years, ensuring the most successful possible results for our students.
Quality Education:
Our courses at the institute are designed to provide students with a comprehensive understanding of the syllabus, exam pattern, and key topics. They also help students develop their problem-solving skills, critical thinking abilities, and time management strategies. We also provide students with a supportive and motivating learning environment that encourages them to reach their full potential.
Genius Educators:
One of the key advantages of preparing with us is the experienced faculty. The faculty members at these institutes are highly qualified and experienced professionals who have a deep understanding of the syllabus and the examination pattern. They are equipped to provide students with the guidance and support they need to achieve their goals.
Courses That Strengthen Foundation:
As a result of their expertise in the subject matter, the professionals are able to provide students with all the necessary tools and resources that will assist them in preparing for their exams. As well as having an extensive understanding of the complex topics and material being taught, these professionals have a great deal of experience in helping students understand them. By providing comprehensive and personalized JEE Advanced Coaching in Gorakhpur, we ensure that our students have the highest possible chance of success.
Study Materials:
Momentum also provides students with a variety of resources and materials. Students can prepare for the exams using study materials, practice papers, and mock tests that are structured and systematic in nature. In addition to providing study materials, our most reputable institute provides access to online resources to help students gain a deeper understanding of the subjects.
Learn Competition Level:
When students join a coaching institute, they can interact with other students who are preparing for the same exams. This not only provides students with a supportive environment but also provides them with the opportunity to learn from one another. This is because students can collaborate on challenging problems with other students.
Motivation:
This gives students an opportunity to share their knowledge and skills with each other, and it also allows them to develop their problem-solving skills as they work together to solve difficult tasks. They also have the opportunity to learn from one another's unique experiences and perspectives as they work together to tackle difficult tasks.