A Guide to JEE 2023 Revision Techniques How to Retain Information for a Long Term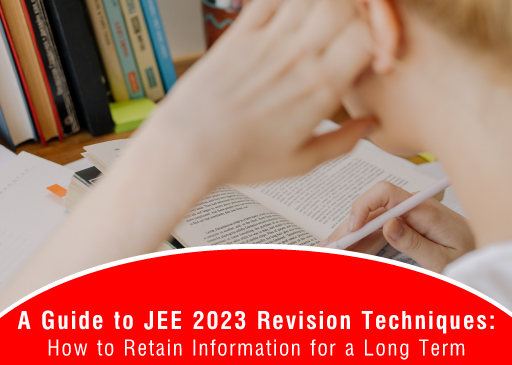 A comprehensive revision strategy should be tailored to each individual student's needs. This includes breaking topics into manageable chunks, creating mind maps and diagrams, and developing mnemonic devices to help remember key information. Additionally, it can be beneficial to participate in group study sessions, practice past exam papers, and focus on understanding the foundational concepts. Momentum provides the Best Coaching for IIT-JEE Test Series ensuring that the students are well-equipped with the right skills and knowledge needed to excel in their exams.
For admission to undergraduate engineering programs in a variety of colleges across India, the Joint Entrance Examination (JEE) is a national-level engineering entrance examination. In order to get a better grade in the JEE examination, you need to start preparing well in advance to avoid last-minute scrambling and stressing out about the exam.
We provide comprehensive IIT Coaching in Gorakhpur that includes online classes, study material, and practice tests. The exam consists of two papers - JEE Main and JEE Advanced. Here are some factors that provide the most effective way to learn things better and for a long time:
Creating flashcards for key topics:
In order to learn what key terms and definitions are, you can create and use flashcards. By creating and using flashcards, you can quiz yourself on key terms and definitions. This helps you to remember the information better and to apply it to various scenarios. Additionally, you can create flashcards with other visual cues, such as images or diagrams, to further reinforce your understanding.
Learn In mnemonic form:
When learning information, memory aids such as acronyms and tough formulae, and equations are used to make it easier to remember later. The mnemonic form is a way of encoding information into memorable patterns or images so that it is easier to recall later. This technique is often used for complex information such as formulae and equations as it helps to break it down into more manageable chunks. You might find it challenging to create, so joining an institute can be extremely beneficial.
It's time to break the syllabus:
In order to make complex information more manageable, we must break it down into smaller, more manageable segments. This allows students to process the information more easily by breaking it into chunks and making it less overwhelming. Breaking the syllabus into smaller sections also makes it easier for instructors to provide feedback on the material and keeps the students engaged in the learning process.
Activate your recall memory:
The most effective way to test yourself is to try to recall information from memory without being prompted to do so. Challenging yourself by recalling information on your own helps you maximize your memory potential. Unless of course, you have a photographic memory, then you can just point and shoot!
There is a certain number of practice tests you should take:
Doing practice questions and past papers helps you to become more familiar with the material. It also enables you to identify which topics you need to focus on in order to improve your understanding of the subject. It also helps you to develop problem-solving skills which are essential for success in the JEE test.
Mind mapping:
Making connections between different topics and visualizing the information is one of the most important aspects. You can learn these from the teachers in the most successful JEE coaching institutes.