Momentum Institute Launches Its Seventh Edition Of M-Star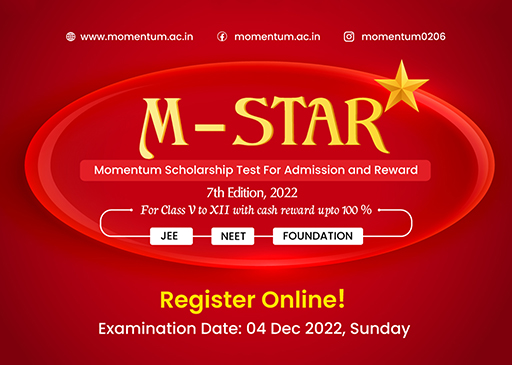 Momentum Coaching Institute, incepted in 2004, launched its seventh edition of the M-Star scholarship test for admission and reward. It is offered to JEE and Neet aspirants. If you want to grab your scholarship while taking admission at Momentum, you might like to consider it. The test will be held on 4 December 2022, Sunday. The Institute provides the best IIT Coaching in Gorakhpur and has been assisting students with fulfilling their dreams for more than 18 years.
M Star is a term that stands for Momentum Scholarship Test for Admission and Scholarship Reward. It is more of a talent hunt examination for eastern Uttar Pradesh students. The Institute is famous for its IITJEE coaching as well as the M-star test. The test targets people who live in villages and don't have to worry about leaving their homes, and anyone in the eastern UP region can take the test. The exam is taken in a disciplined and planned setting. However, the children who are living in villages can appear in the exam from the comfort of their homes.
Highly competent educators, the latest techniques and practical approaches to give coaching are followed at the Institute, which helps in producing stunning results. The coaching Centre promises to provide the best NEET and JEE coaching.
The founder is a former IITian, who consistently supervises the classes and environment of the Institute. It is the most preferred IIT Coaching Institute in Gorakhpur because of its success rate and also scholarship and reward initiatives.
M-star is India's first talent hunt and reward program, and it offers a platform to students from Bihar and eastern Uttar Pradesh. By putting great efforts into creating unique methods, this program strives to discover students with potential and encourage them through scholarships. The test is in its seventh edition and has been highly successful in producing the best IITians and doctors.
This talent hunt test helps the students to discover their skills and attain the confidence to deal with future challenges such as competitive exams and entrance tests. The test has guided many peoples in the past successfully by developing understanding and offering rewards. The test has become more structured compared to what it was previously. One can visit www.momentum.ac.in/Mstar to register for the exam.
Students learning in 5th to 12th can appear in the exam regarding their future aspirations. They will have to score decent marks in this examination. There will be 300 multiple-choice questions
from math, physics, chemistry, biology, science, mental ability, and English. The span of the test will be two hours. Five marks will be awarded for every right attempt, and one mark will be deducted for incorrect responses. The examination fee is extremely affordable, only Rs.100.
The student who wants to pursue medicine in the future will have to score better marks in biology, and engineering aspirants will be required to score better in mathematics. There are more significant benefits of appearing in the exam. Students can select a particular stream to be eligible for the scholarship. The charges are not applicable for learners of classes 5th to 7th. So the students must give consideration to the M-Star scholarship test hosted by Momentum Institute at Gorakhpur. Every student will receive a merit list separately after completing the test.
Top 10 ranked holders will receive a 100% waiver for tuition, registration, admission, examination, and books related fees.
Students who got 11 to 20th rank will not have to submit their tuition fees, and also, no admission fees will be charged to them.
Rank holders between 21 to 50 where save 80% on tuition fee relaxation.
51-100 Rankers Will receive a 60% relaxation.
From 101 to 200 will have to submit only 60% of their tuition fees.
And finally, from 201 to 500, where they save 25% fewer charges on their tuition fees.