The Secret Tips To Overcome Anxiety And Stress When Preparing For NEET or JEE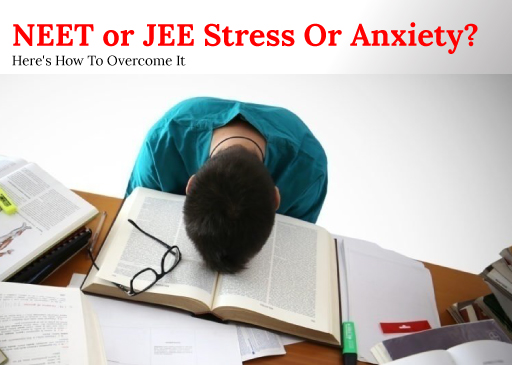 There are various competitive examinations, including NEET and JEE, which are among the most difficult and that most students strive to pass. However, making preparations for any of these difficult tests requires months of rigorous and honest study, perseverance, and even a plan. If you want to take the JEE or NEET, you must stick to a study routine and have a clear objective. Enrolling in the Best JEE Coaching in Gorakhpur would undoubtedly enhance your preparation. However, in addition to studying for the test, you tend to get nervous and stressed out due to the stress. We explain how to deal with these emotions while studying for such a difficult test.
Good study materials & reference books:
Students must go past NCERT to get high marks, particularly in Jee, which is required for admission to a reputable institution. Students must choose appropriate study materials and reference books for this purpose. Momentum is a Neet Coaching in Gorakhpur because it offers online coaching classes as well as the best study materials that help people prepare for the final test.
Try to Grasp rather than adopting rote learning:
When preparing for tests, you may be motivated to understand every topic. In truth, this is a wise idea. Rather than cramming, the greatest method to prepare for such a test is to comprehend the topics. When you fully comprehend them, you will be able to answer complicated problems and, as a result, recall them for the examination.
Cramming without comprehending the meaning will very certainly cause you to forget the idea, and hence will not help you answer any questions based on it. Because, in practical terms, test questions seldom explicitly demand you to describe an idea as it is, but rather provide you with a situation in which you might implement the concept. As a consequence, concentrating on the actual application of the idea is preferable to just knowing the theoretical concept. As a result, it is the most effective method for overcoming test anxiety.
Keep Your Smartphone Aside When Preparing for the JEE and NEET:
Screens are a huge distraction, not just for studying, but for doing any work if you have a smartphone nearby. Keep your phone on silent or away from you; in fact, any display, whether it's a computer, tablet, or cellphone, should be avoided. The alerts on social networking applications continue to flow in, and despite your best efforts not to use your phone, the need to check it is irresistible. The easiest method to avoid your phone is to put it on, do not disturb it and give it over to your guardians while you're studying. Because if you leave it on your desk, bed, or even under your pillow, your inner self will constantly bring you back to your cell phone.
Fundamental clarification:
Clarifying and comprehending the fundamentals is critical to getting the required grades since most students overlook the fundamentals and suffer from conceptual issues as a result. Instead of depending on rote learning, it is necessary to explore those fundamentals on a frequent basis and to comprehend each and every topic.
Setting targets, organizing, and executing them on time:
First and most importantly, a learner must establish a goal and develop a study strategy. It is critical to set realistic objectives. Working on one's strengths is a good method for every learner. Planning is vital, but so is following through on that plan on schedule.
Concentrating on NCERT textbooks for JEE or NEET:
Books are thought to be quite essential in establishing a solid foundation of ideas and theories. Students must complete all NCERT question papers and look through the solution examples. It is extremely vital for NEET applicants to properly master the Biology book since the majority of NEET questions come directly or indirectly from NCERT. NCERT diagrams are highly clear and insightful. A comprehensive study of the books, as well as plenty of practice, helps pupils succeed.