Medical Coaching: How to Prepare Better?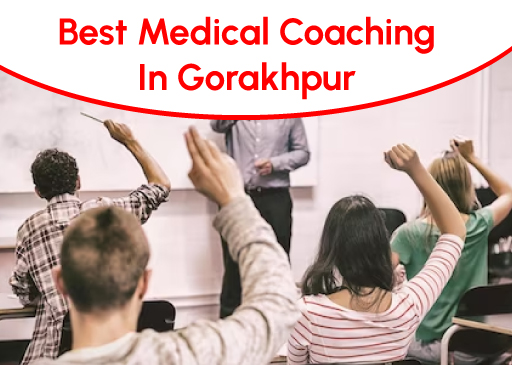 Entering the field of medicine is a dream nurtured by countless students across the nation. However, cracking the medical entrance exams can be a challenging task that demands meticulous preparation. This is where a trusted medical coaching institute steps in. Momentum, renowned as the Top Medical Coaching In Gorakhpur, is here to guide you on how to prepare better for your medical journey.
Why Choose Medical Coaching?
Before we delve into the tips for effective medical exam preparation, let's understand why medical coaching is essential.
Structured Curriculum: Medical entrance exams like NEET require a comprehensive understanding of subjects like biology, chemistry, and physics. A good coaching institute provides a well-structured curriculum that covers all topics systematically.
Expert Guidance: The experienced faculty at a coaching institute can simplify complex concepts, clear doubts, and provide insights that self-study might miss. Their guidance is invaluable.
Practice Makes Perfect: Regular mock tests and practice sessions at coaching centers help students adapt to the exam pattern, manage time efficiently, and gauge their progress.
Motivation and Peer Support: Being surrounded by like-minded peers and dedicated mentors can boost your motivation and keep you on the right track throughout your preparation journey.
Let's explore how Momentum, the Best Medical Coaching In Gorakhpur, can help you prepare better:
Expert Faculty: Our institute boasts a team of highly qualified and skilled faculty members who are experts in their respective fields. They are devoted to ensuring that every student receives the best guidance and Support.
Comprehensive Study Material: We provide well-researched and up-to-date study materials that cover the entire syllabus. These materials are designed to simplify complex concepts and make learning enjoyable.
Regular Mock Tests: Our institute conducts regular mock tests that closely resemble the actual medical entrance exams. These tests help students become familiar with the exam pattern, manage time effectively, and identify their strengths and weaknesses.
Personalized Attention: We comprehend that every student is unique, with different learning needs. At Our institute, we offer personalized attention to address each student's strengths and weaknesses, ensuring their overall growth.
Interactive Learning: Our teaching methodology includes interactive sessions, discussions, and doubt-solving sessions to ensure that students have a clear understanding of the topics.
Motivational Environment: Being part of Our institute means becoming part of a motivated community of aspirants who share your dreams and goals. The atmosphere here fosters healthy competition and encourages students to strive for excellence.
Tips for Effective Medical Exam Preparation
Alongside the Support provided by Our institute, here are some tips to help you prepare better for your medical exams:
Time Management: Create a study schedule that allows you to cover all subjects and topics systematically. Allocate more time to subjects you find challenging.
Regular Revision: Consistent revision is key to retaining information. Make use of the study materials provided by Our institute for effective revision.
Practice, Practice, Practice: Solve previous years' question papers and take as many mock exams as possible to get accustomed to the exam pattern.
Stay Healthy: A healthy body and mind are essential for effective preparation. Ensure you eat well, exercise, and get enough rest.
Seek Help When Needed: Do not hesitate to ask for help from your teachers or peers if you're struggling with a particular topic or concept.
Stay Positive: Maintain a positive attitude throughout your preparation. Believe in yourself and your abilities.
In conclusion, choosing the best medical coaching, Our institute is a significant step toward achieving your dream of entering the medical field. With our expert guidance, comprehensive study materials, and a motivating learning environment, we are committed to helping you prepare better and excel in your medical exams. Remember, the journey to becoming a medical professional starts with the right coaching, and Our institute is here to pave the way for your success.