Discover Your Route To Medical Institutions With NEET Coaching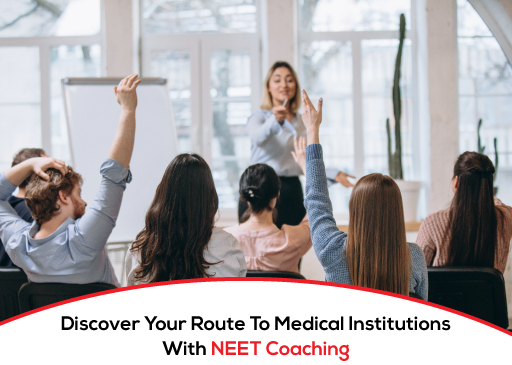 The National Eligibility cum Entrance Test is one of the most essential tests to pass in order to enter medical institutions in India (NEET). The NEET Coaching by us can help you prepare for the exam by providing comprehensive study material and practice tests that cover all the topics and concepts in the syllabus. It also provides expert guidance and mentorship from experienced healthcare professionals. These individuals can help you understand the nuances of the exam and provide valuable advice on how to approach it. The following actions may be taken to prepare for a medical institute test and get accepted to a medical institute:
Test understanding:
Understanding the test requires familiarizing oneself with its format, content, and scoring system. Examining the content of the test can give a better sense of the types of questions that will be asked, as well as the level of difficulty. Understanding the scoring system is also important, as it can help the test taker to better plan their approach to the test and to prioritize their efforts.
Enroll in a coaching program:
Sign up for a program that offers test counseling. You will benefit from receiving professional advice, individualized support, and access to study resources and practice exams as a result. There are many reputable coaching institutes that provide Top Medical Coaching in Gorakhpur. These institutes have experienced and knowledgeable faculty members who are dedicated to helping students prepare for various medical entrance exams. They offer comprehensive courses along with practice tests and mock interviews to help students gain the necessary knowledge and skills to succeed.
Make a study schedule:
Create a study schedule that incorporates frequent review and practice exams, covers all the subjects on the test curriculum, and allows ample time for each subject. This will help reinforce the material and allow you to identify and fill any knowledge gaps. Additionally, it will give you enough time to practice taking the test in a simulated environment and become familiar with the type of questions you may encounter.
Take frequent mock exams to gauge your level of preparation:
Make sure you increase your speed and accuracy, as well as identify your strengths and weaknesses. Pay attention to your areas of weakness and improve them by consulting your coaching center or researching online. The end result will be improved overall performance and increased confidence in the task at hand.
Keep up to date:
Maintain up-to-date knowledge of the most recent medical advancements while preparing for the exam's general knowledge part. Momentum is the Best Medical Coaching Institute in Gorakhpur with state-of-the-art facilities and provides individual attention to each student to ensure that they are well-prepared for their exams. With this in mind, we provide a comprehensive training program that helps students to stay ahead in the competitive medical field.
Take care of your physical and mental health by eating a balanced diet:
Keep yourself in excellent health by getting enough sleep, exercising regularly, and using relaxation methods in order to maintain a healthy lifestyle. Effort and hard work can help you succeed on a test and get into a reputable medical school.