An Initiative of IIT Alumni, Er Sanjeev Kumar in Gorakhpur UP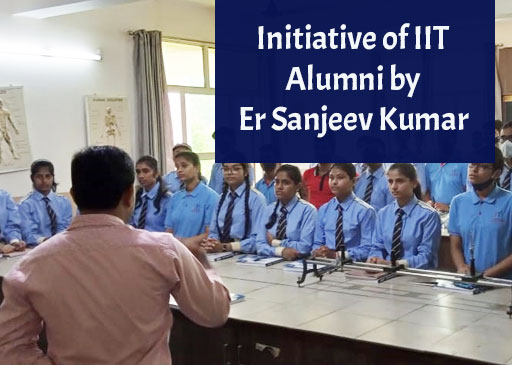 Er. Sanjeev Kumar is a B.Tech alumnus of IIT Dhanbad. After completing his engineering, he would have gone into the corporate world but he chose to work in the field of education. He initiated Momentum coaching classes for rural students and scaled it to the Top Medical Coaching in Gorakhpur.
Now Momentum is the leading name for IIT and NEET coaching in the eastern region of UP, Gorakhpur. Thousands of students have cracked JEE-Advance, JEE-Mains, and NEET exams under his guidance.
The institute has gained the trust and confidence of students and parents over 18 years of committed hard work. It prepares students for various prestigious competitive exams like JEE-Advance, JEE-Mains, NEET, NTSE, and various National International olympiads.
Er. Sanjeev Kumar was the first person in Gorakhpur who ignited the hope in students and parents that aspirants can become Doctors and Engineers from Gorakhpur. In 2004, he saw the dream and now Momentum is providing Top NEET Coaching in Gorakhpur and prepares thousands of doctors and Engineers each year.
Mr. Sanjeev Kumar is a natural inborn teacher and adept learner. He explains the complex topic in such a simpler way that it becomes easier in developing problem-solving skills. Not only does he teach the subject but also provides motivational sessions, seminars, work-shop, and counseling sessions to the aspirants.
The founder Er Sanjeev Kumar shows top priority in hiring top-class faculties. As faculty is the backbone of any coaching institute. The institute has faculties having more than 10+ years of experience in their respective professional field. The faculties are from the top prestigious institutes, IIT/NIT/AIIMS.
Er. Sanjeev Kumar follows a Student-centric approach. He focuses on the educational benefits of students. This is why he shifted coaching and office to Chhatra Sangh chowk so that students who come from far places can save their time. He founded a school and integrated coaching and schooling altogether. He believes in innovations and child-centric approaches.
The Founder Er Kumar nurtures students to develop a 'scientific attitude'. His Momentum team makes sure that the child develops problem-solving skills and thinking abilities. The teaching and learning ecosystem of momentum is not just limited to JEE-NEET preparation, but it goes to Life skills.
Er. Sanjeev Kumar is a visionary leader-cum teacher. He has guided and mentored various faculty members to excel in teaching fields. Under the leadership of Mr. Kumar, thousands of aspirants have become doctors and engineers in Gorakhpur.