6 Ways You Can Enhance Your Performance For Competitive Exams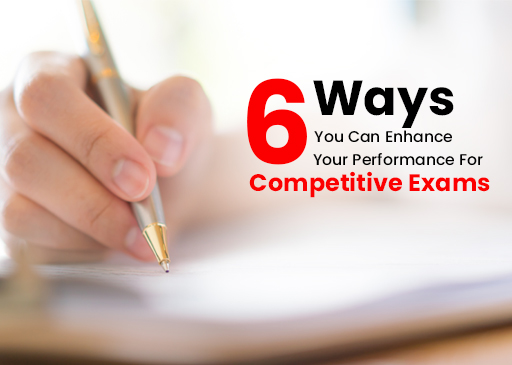 A massive number of pupils apply for competitive examinations and study hard. Some of them succeed in their goal of passing the test in one go, while others fail. Do you know what the winning formula for top-ranking applicants is? If otherwise, this post will brief you on an effective strategy that you may use to get success in competitive tests.
Acing competitive tests is a difficult endeavor, but it is not impossible. You may easily pass the test if you study for it with zeal and intelligence. Every year, the number of people applying for major competitive examinations such as JEE Main and JEE Advanced increases.
You will confront intense competition in challenging tests. It is critical to make preparations in such a manner that you can compete with, beat, and acquire a prosperous job. You may visit an incredible platform that provides the best JEE Coaching in Gorakhpur for improved Competitive test preparation.
Preparing for competitive examinations like JEE Main, JEE Advanced, and NEET might be difficult. Students often study for these tests in the same manner as they would for their Board examinations. Because competitive tests vary from school examinations in many ways, so should their preparation methods. Competitive exams can be mastered with these strategies:
Join Coaching Institute:
The initial step in your preparedness should be to enroll at IIT Coaching Institute in Gorakhpur. Competitive tests are constructed differently, and you should approach them with the assistance of an expert. Self-study and extracurricular activities at school may not be enough. So, enroll in a reputable coaching programme and get started on the path to success.
Polish Up On Your Core Concepts:
This is significant since the questions get more challenging as you prepare for competitive tests. It is critical that your fundamentals be solid before moving on to more intricate problems.
Understand the Test Pattern:
When you begin preparing, you must get acquainted with the exam format. Examine a few prior year's question papers to grasp the trend fully. This should aid you in comprehending which subjects are the most important and how tough the questions are.
Recognize Your Skills and Flaws:
Most students get overconfident and fail to practise the areas in which they excel. This is often the reason people make foolish blunders in their tests. While it is great to concentrate on areas where you are weak, it is also critical to sharpen up areas where you are strong.
Record and Evaluate yourself:
Continue taking mock examinations to get additional experience and to understand how to overcome your naive mistakes. Mock exams can benefit time management by letting you know which sections of the test demand extra attention.
Remain Positive and Confident:
The leading reasons for failure are tension and nervousness. Be confident if you've adequately prepared. Maintaining your cool when answering questions will allow you to focus better and prevent dumb mistakes.
Hopefully, you now understand how to pass competitive tests. Learn to manage your time well and maintain your health. Momentum hopes you use these tips and excel in competitive tests and wishes you all the best.