Become Heroes of the Nation with the Support of Best NEET Classes - Momentum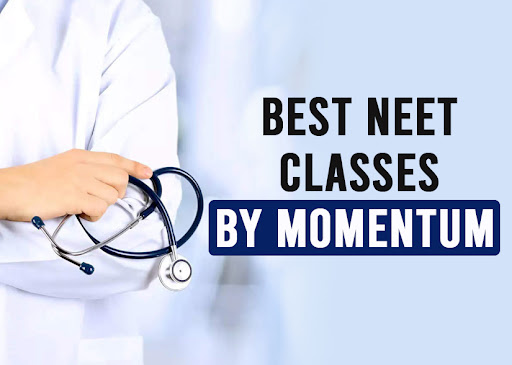 The pandemic time was challenging for all of us. Thanks to all the doctors and nurses out there who had sacrificed their sleep to save the lives of patients. They were no less than life jackets for saving the lives of covid patients from drowning in the pool of death. That's why people have started giving much respect to the profession. This has motivated several students to pursue a medical career for becoming a helping hand to others. However, chasing a dream of becoming a successful doctor is a long process and students have to pass several examinations for the same.
One of the biggest hurdles is to secure an excellent rank in the National Eligibility Entrance Test (NEET) for pursuing courses like MBBS and BDS from top prestigious medical universities. Students have to push their limits for getting one seat in their dream colleges. However, now with the changing scenarios, the students can take a chill pill as they can get enrolled in the best NEET Classes in Gorakhpur. Although the students have to walk on the path to success on their own, the experienced faculty members can show them the right direction.
How have NEET Classes become support for students?
There is a great saying that " Every coin has two sides." Similarly, there are both advantages and disadvantages associated while taking the support of coaching classes. It's up to students to get the best out of training sessions and to come one step closer to their dreams. That's why we are listing some of the perks that students can enjoy while taking the coaching or training sessions.
By the end of these pointers, you will get a bigger picture that experienced faculty members of coaching institutes can become a backbone for all students out there.
Increases the knowledge of students by making them familiar with new concepts. Nowadays studies have become an easy exercise as faculty members are explaining each concept with the help of illustrations. Students are trained by giving practical examples rather than just theoretical concepts. By opting for this method, they can remember some important topics for a longer period.
The coaching classes fix the time schedule of students and that's why they don't run short of time for completing their syllabus. The students can manage to perform other activities along with their studies without any hustle and bustle.
Studying from good resources and relevant books can be beneficial for students. That's why the teachers of coaching classes provide the best study material with all the detailed concepts so that students don't have to roam down the streets to receive the relevant information.
Can I become a successful doctor by enrolling in coaching classes?
Most students have this doubt that they can achieve their dream careers by taking classes from a coaching institute. However, there is no denial of the fact that the Medical Coaching Classes in Gorakhpur UP guides the students in the right direction and makes student life quite easier. That's why by holding the hands of the best and most experienced faculty members, you can achieve your targets easily in a shorter duration.
So, pull up your socks and get ready to see your dream coming true by cracking competitive exams with excellent ranks!