Know Career Options After Cracking NEET By Er Sanjeev Kumar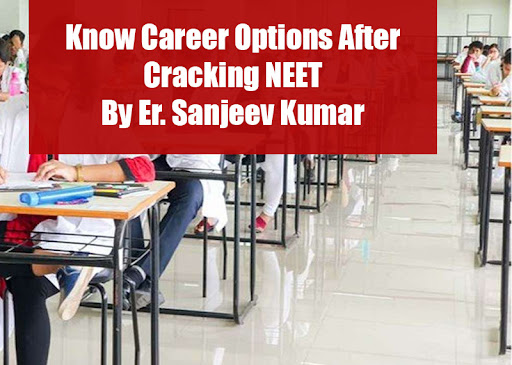 Er. Sanjeev Kumar is a B.tech graduate of IIT Dhanbad, one of the prestigious institutes of India. After graduation, he left behind a bright career in the mining industry to dedicate his whole life to the betterment of Education in India. Now he is the most popular NEET teacher in Gorakhpur. His approach to teaching is such that complex topics become forever simpler to the students.
If you are thinking of preparing for medical college, you must be aware of the NEET exam, the National Eligibility cum Entrance Test. It is one of the toughest exams for medical aspirants. Lakhs of aspirants fight each other to secure their seats in prestigious colleges.
Momentum is the leading coaching institute in Gorakhpur. Under the leadership of Er. Sanjeev Kumar, Momentum also offers NEET Coaching in Gorakhpur.
After clearing NEET, one has many options other than being a Doctor. Er. Sanjeev Kumar has listed all the possible careers option after NEET-
1-MBBS
The most popular choice after clearing NEET is MBBS. Being a doctor requires a lot of rigorous study and dedication. After completing MBBS one can specialize in their field of interest.
2- BDS
BDS stands for Bachelor of Dental surgery. One who is interested in dentistry can opt for BDS. After graduation, one can work for a Hospital or can open a clinic.
3-BAMS
Bachelor of Ayurveda, Medicine, and Surgery focus on the Ayurveda practice of healing. After completing one can practice as an Ayurvedic physician or Ayurvedic Surgeon.
4-BHMS
Bachelor of Homeopathic Medicine and Surgery is the specialized field in Homeopathy. People who believe in the homeopathic way of healing are the best choice.
5-BSMS
Bachelor of Siddha medicine and surgery is the science of Siddha and falls under the AYUSH system. If you are fascinated by the ancient practice of healing, one can opt for BSMS.
6-Nutritionist
Now people are becoming more aware of food and nutrition. This creates demand in the field from both private and Government. One can work for a celebrity actor or sportsperson, researcher, or in a Production company.
7-Food science and Technology
We need world-class technologies to fulfill the need for food for overpopulation. One who is interested in Biology and engineering can opt for it.
8-Clinical or Life Science researcher
Clinical research is the new thing in India and can take the advantage of the early opportunity.
9-Anthropologist
An anthropologist means one who studies human evolution and traits.
10- Nursing
The demand for nurses will be there and growing in the Government, non-government or private hospitals.
11-Agriculture and Animal Husbandry
It has an opportunity from agriculture management to dairy production.
12-Pharmacy
India is one of the largest producers of medicine in the world. One can work as a pharmacist or researcher in the company.
13 Teaching
If you love teaching, you can become a teacher for NEET aspirants.
Momentum Institute is the best coaching center for Future aspiring doctors. It also offers Medical Coaching Classes in Gorakhpur UP.
Er. Sanjeev Kumar wishes you all the best for your Dream and hopes it will be fulfilled.