DO YOU IGNORE THESE FIVE POINTS WHILE PREPARING FOR NEET 2022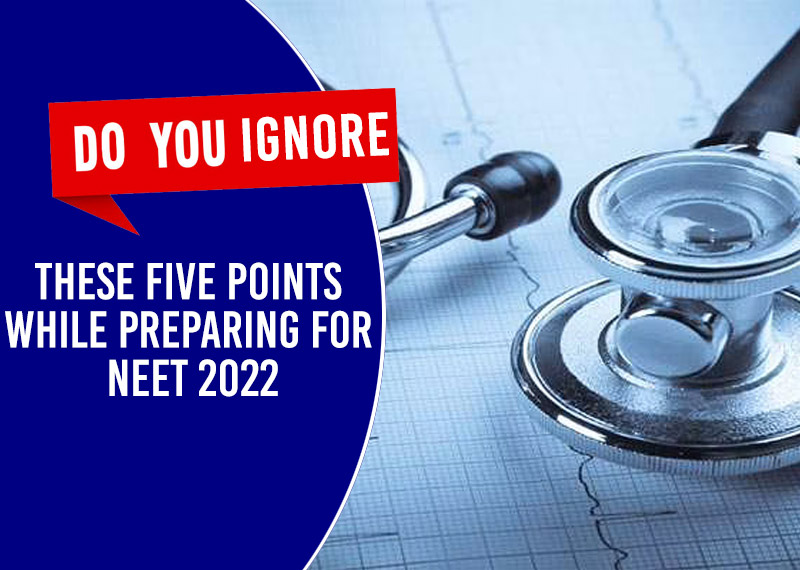 The NEET(National Eligibility Cumulative Entrance Test) is a stepping stone for students wishing to further their education at India's top medical and dentistry schools. Because the NEET exam is regarded as prestigious, the level of competition is always high. Aspirants must ensure that they do not leave any stone unattended in order to crack the NEET exam with ease.
Aspirants must be extra cautious not only in their NEET preparations, but also in order to prevent making mistakes on the exam day. However, there are a few frequent blunders that students make while taking the exam owing to stress.
The Post goes over these blunders and how to prevent them in order to do well on the NEET entrance exam. Those who are interested might continue reading the post about NEET 2022 exam faults to avoid.
1- Failure to read the question carefully: This is one of the most typical errors made by applicants at the start of the exam. Every question, including the instructions, should be read carefully. However, This appears to be something that can be overlooked; it can result in an exam blunder. Aspirants must be aware of negative marking, proper OMR sheet filling procedures, and other basic examination rules outlined in the guidelines.
2- Inept Time Management: While studying for the NEET 2022 exam, most candidates overlook the importance of practising time management skills. That is when they lose track of time and are unable to complete the exam on time. For Setting up a time limit, aspirants need NEET classes in Gorakhpur. Here, Aspirants should set a time limit for each subject, such as Physics, Chemistry, and Biology, and strive to stick to it. This will help them increase their pace in answering questions without becoming anxious.
3- Rushing To The Answer: Many applicants want to complete the NEET question paper as quickly as possible, and as a result, rush to discover the answers and commit mistakes. Candidates may receive a low mark in the NEET 2022 exam due to a lack of precision in their answers.
4- Not Recalculating Answers: Candidates must ensure that they re-evaluate their answers during the NEET exam 2022, either at the end of the exam or shortly after they attempt the question. Because what we calculate in a hurry may be erroneous, it is critical to double-check what you have responded to in order to retain accuracy. Momentum is a well-known institute and provides an Olympiads crash course in Gorakhpur. They also help their students to keep time management in mind.
5- Being Overconfident: This can put the applicants in a dangerous situation and is linked to the previous concerns. Because they are overconfident, aspirants may fail to read the instructions, double-check the answer, and overestimate their quickness in answering the question. Just keep in mind that being overconfident will result in you losing more marks.