Ten study tips to crack any competitive exam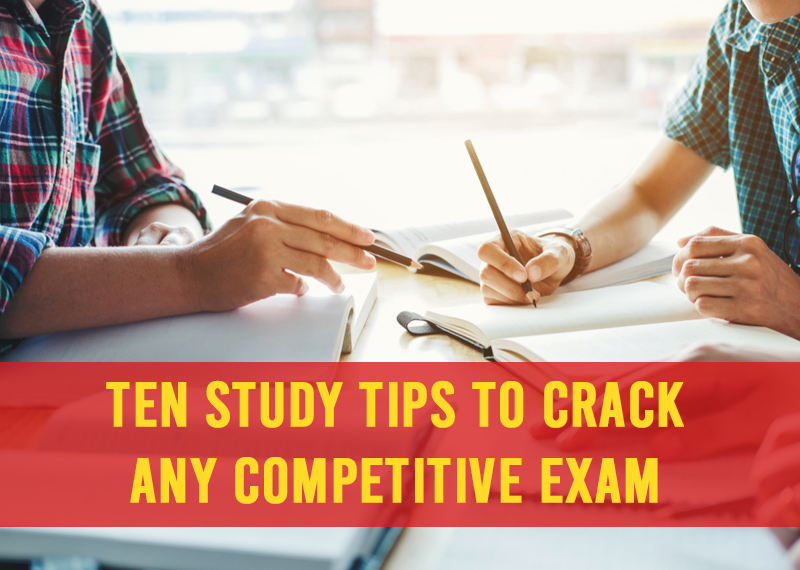 Olympiad examinations are crucial for every student as it helps to understand and identify the strengths and weaknesses of the student and the true potential of the child. It also gives an idea of where the student stands in this competitive world of today. The examination is a motivation in itself, motivating the students to perform better and come out as survivalists in the competitive environment. Understandably, the Olympiad Examination is not very easy. With proper Olympiad training, every student can excel in the exam without any extra effort. Appropriate guidance from the teachers and regular practice will make the various concepts of the exam clear for the students. Having definite ideas helps to solve a question paper better than without one.
Once the students are regularly attending the Top Olympiads coaching in Gorakhpur, they feel motivated. Motivation to endeavor better and understand the scientific facts deeply to enhance their reasoning skills and analytical problem-solving minds. The Olympiads are indeed school-level examinations, but preparing for the same is beyond school. The question paper is more concept-based rather than being a paper where students can learn by heart and solve it. So, getting a clear idea is the aim here and not mug pages and pages of books. The competitive exam aims to provide exposure to the students and prepare them for the future.
10 Study tips to crack competitive examination
Preparing for any exam requires proper training and planning. The KVPY Examination is a prestigious national-level examination that identifies the students who are highly intellectual and grants them their rightful scholarships. With KVPY Coaching Classes in Gorakhpur, every student can now prepare for the examination and aim to excel at it.
Whether it is the Olympiad examination or KVPY, both the examinations base their questionnaire on the concepts learned at the school. So, it is essential to clear the doubts and concepts of every chapter while preparing for the tests. With special NTSE Classes, students can clear all their doubts and clearly understand every idea and formula.
The first and the most important thing to understand is the structure of the competitive exam one is applying for. Each competitive exam is different from others. It is essential to go through their guidelines and process before applying them carefully. One must know all the details of that competitive exam; otherwise, it will be counterproductive and not help anyone in their career. Instead, one should only sit for those competitive exams that fit with a student's career goals.
The Syllabus is the most important for a student appearing in a competitive exam. The details of the Syllabus, subjects, topics, different sections, contents, and the marks weightage need to be scrutinized thoroughly before starting the preparations. The focus needs to be according to the marks allotted in each segment.
Students studying at home, hostel, PG accommodation must ensure that the study area is peaceful and calm. It is significant to organize certain things to help one prepare better. One should have a comfortable chair and table, proper light, books, and proper ventilation for preparation. If one is clear on the goal and comfortable then only one can concentrate and study for long periods. Also, if the study area of the room is environment-friendly, well-lit, and spacious, it helps students learn with complete focus and interest. Clean space tends to bring out positivity and confidence in a student.
Planning for competitive exams preparation is crucial. A timetable helps students to study and practice different subjects properly. The study schedule should cover the entire syllabus learning and revision. Dividing the Syllabus into daily, weekly, and monthly preparation helps one be disciplined. It is important to have a practical study plan which can be executed properly. There is no point in planning a study schedule that cant get implemented in reality.
Competitive exams are filled with analytical and tricky questions. Apart from learning and memorizing the topics, understanding the concepts is more important. If a student's concept is clear about any topic, they will tackle any question. For this, a different kind of preparation is required. One needs complete concentration and focus. These days the most significant distractions are mobile phones and social media. Students should set aside some time to check on their phone messages, emails, chats, social media for a specific time and then set it aside for the whole day and focus on their studies. This way, frequent distractions can be eliminated, becoming more disciplined.
Taking care of health is as essential as studying. Unless one is physically and mentally healthy, it will not be easy to go through the rigors of competitive exams. Good sleep helps students stay fit and fresh for the daily studies regime. If a student does not get adequate rest, tiredness will remain and affect concentration. It will compromise the quality of a student's preparation. A student should eat healthily, sleep well at night, meditate, exercise, and drink plenty of water.
Believing in oneself and being focused on career goals can help succeed in the challenging competitive exam. Despite all the fears and doubts, students should have a positive attitude. It is significant to be surrounded by people who can motivate and support during this period. A negative attitude is not helpful, and it is better to avoid them. Students should give their best during the exams and not worry about the results.
Practicing previous years' competitive exams question papers is a highly crucial part of preparation. Coaching classes focus on practicing previous years' papers. Therefore, a student can understand the pattern of questions asked. If one goes through a couple of previous years' question papers, one can recognize the type of questions asked, which topics are covered more, and the difficulty level. Practicing them helps the students be familiar with the question paper format, the time required to complete them, and checking the answer key to know your level of preparation.