Top 20 things Aspirants Should Incorporate Into Their Daily Routine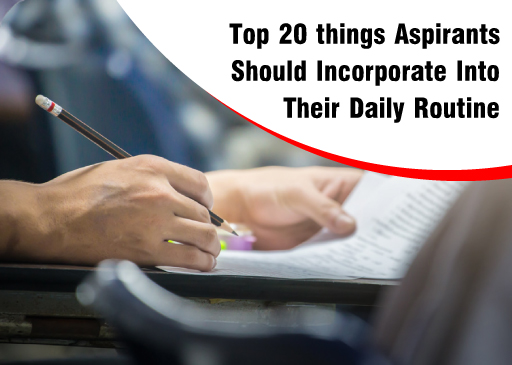 Preparation for the Joint Entrance Examination is a difficult endeavor that needs a great deal of effort, attention, and consistency. We provide the Best Coaching for IIT-JEE Test Series that includes concepts, tips, and tricks to crack the exam. It also focuses on problem-solving skills, time management, and analytical thinking, which are all essential for success in the exam.
With JEE 2023 rapidly approaching, it is essential for eager students to begin studying early and effectively. We will go through 20 things that students should include in their daily routine to prepare for JEE 2023.
Keep Current:
Remaining current on current events and advancements in science and technology can help students grasp the practical applications of the principles.
Get Assistance from Teachers:
Pupils should not be afraid to seek assistance from their instructors or mentors. They can clear up any confusion and provide advice.
Attend a Coaching Institute:
By joining a coaching institution, students may get systematic advice and skilled coaching.
Begin Early:
It is critical to begin preparing for JEE 2023 as soon as feasible. This allows students to study the whole course and have plenty of time for revision.
Make a Study Schedule:
Students should make a daily study plan that covers all of the disciplines and topics that they must cover. It is critical to keep to the timeline and make any necessary modifications.
Realistic goals:
Establishing realistic objectives can assist pupils in remaining motivated and focused. Objectives should be attainable and appropriate for the student's skills and shortcomings.
Frequent Practice:
As the saying goes, practice makes perfect. Pupils must practice on a regular basis in order to grasp ideas and themes.
Solve as many Previous years' exams as you can:
Solving prior-year exams can assist students in understanding the test format and question kinds.
Emphasis on Conceptual Clarity:
Understanding the underlying concepts and reasoning behind each issue requires a strong focus on conceptual clarity.
Build a Solid Foundation:
Students must concentrate on building a solid foundation in all areas and themes. Momentum can help you build a strong foundation with their Best JEE Coaching in Gorakhpur which covers the syllabus of JEE.
Improve Your Time Management Skills:
Time management is essential for JEE preparation. Pupils must learn to prioritize their assignments and effectively manage their time.
Have a Good Attitude:
Keeping a positive attitude can assist pupils in being motivated and focused.
Keep Distractions at Bay:
During study hours, students must avoid distractions such as social media, gaming, or television.
Go through topics frequently:
Frequent review is necessary to retain knowledge and increase memory recall.
Take Frequent Breaks:
It is important to take regular pauses in order to prevent burnout and keep concentration.
Diet:
Students must prioritize their health by eating a balanced diet, obtaining adequate sleep, and exercising on a regular basis.
Take Mock Tests:
Simulated exams will assist students in evaluating their performance and identifying areas for development.
Maintain Your Motivation:
Motivation is essential for success. Students must keep themselves motivated by establishing minor objectives and appreciating their accomplishments.
Maintain Discipline:
Discipline is vital for success. Students must practice discipline by sticking to their study plans and avoiding procrastination.
Maintain Confidence:
Confidence is essential for JEE's success. Pupils must trust in their talents and maintain their confidence throughout the preparation process.