OSAT An Exam For Instant Scholarships Offered By Momentum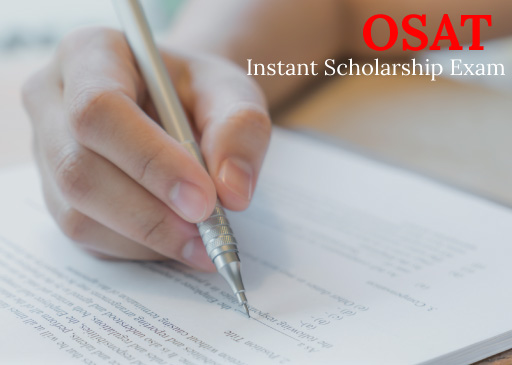 If you are ready to get an instant scholarship while attending coaching classes, keep reading this blog because we will elaborate on OSAT Instant Scholarship Exam that will be held by Momentum. It is an institute that has recently conducted another exam known as M-Star. Institute's online exam is a great way to prepare for the JEE and other entrance exams. Those who will appear in the exam, get an instant scholarship of up to 60% off on their exam fee.
Here are several points that are important to remember:
Candidate eligibility: Those studying or who passed 9th and 12th grades can appear in the admission test offered by the institute.
The test is hosted Every Sunday. As a result, people who want to have scholarships can take part in this exam.

The OSAT Exam Fee is 100 rupees. It is held between 11 a.m. to 1 p.m.

The mode of the Exam is Offline. Offline mode means that we will provide you with exam questions and answers as soon as they are available, so there is no need to wait days before you can take our test!

Up to 60% of Scholarships are issued by the institute instantly.

If you've been waiting for the right time to start your JEE or NEET entrance exam coaching, now is the time to take action.
If you're looking for an opportunity to secure a scholarship immediately, our institute is here to help. With our OSAT exam and Scholarships, we're offering up to 60% off on scholarships for JEE, NEET & Foundation Classroom Courses.
Why is Our institute an Excellent Choice?
We are a renowned coaching center in Gorakhpur. We offer coaching classes for JEE and NEET. The institution was founded by a former IITian in 2004 and there are numerous students who have got their seats in their dream institutions. Moreover, there are many benefits we provide at our institute. Let's discuss them.
Deep Understanding Of all Parts Of the Exam:
You can get an instant scholarship at the moment with our OSAT Entrance Cum Scholarship Test. Our online classes will help you prepare for the exam by covering the gist of each topic in a short amount of time. You'll also receive crash courses that cover important points such as mock tests and exam pattern information. Our recorded lectures are available at any time and from any location, so you can review the content at your own pace and with ease!
Approaches To Sit Exam:
Our mission is to provide students with the skills and techniques that will enable them to achieve the best potential in their lives. Our goal is to empower our students so that they can realize their potential and become successful members of our society as a whole. There is no doubt that our institute's approach is effective, as our students are consistently outperforming all expectations, and we have helped thousands of students achieve their dreams thanks to our programs.
Our institute is proud to be one of the leading institutions in the country that prepares students for the JEE NEET exams. There is no doubt that our students are getting into top schools across India and around the world.
Institute with a Vision:
By providing our students with sophisticated skills and techniques, we have fostered a sense of confidence among students, parents, and the general public, distinguishing us from our competitors. With a vision to provide world-class engineering education at an affordable price, the institution was founded with a vision to help students achieve higher levels of success in their careers.