How Does A Scholarship Help A Student Learn better?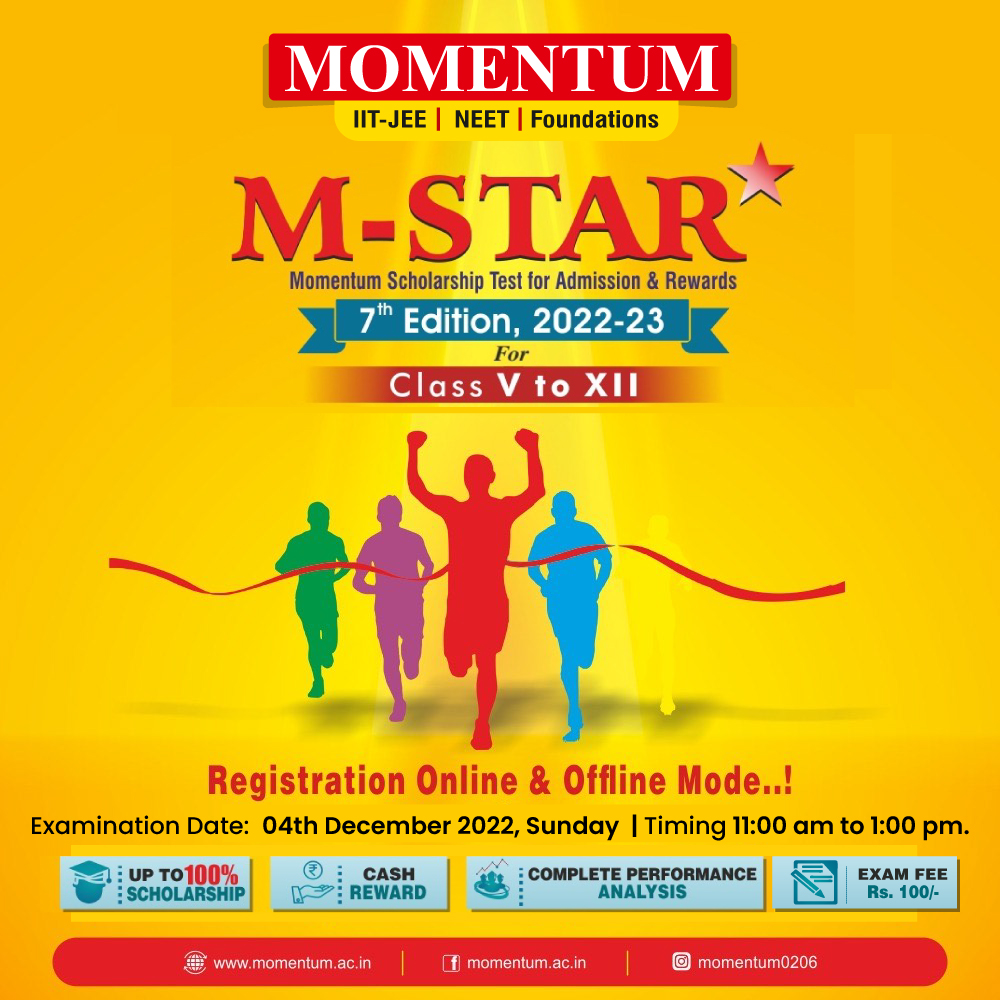 Financial assistance is becoming increasingly important for students in today's environment, and scholarships are the most popular form of service. It is common for scholarships to be merit-based or to be awarded in recognition of an accomplishment. For typical students, other kinds of scholarships are determined based on their financial needs. It is beneficial to pursue them in any situation because they are considered prestigious, and they can give students a boost in career success as well as help them pay for their studies. Scholarships are free of repayment requirements, just like grants.
Momentum Institute's M-Star Talent Hunt offers scholarships and rewards to the winners who are looking for IIT Coaching in Gorakhpur.
M-Star:
Pupils from the fifth grade to the twelfth grade can choose from a wide range of courses to suit their needs. Furthermore, they hold an examination called M-Star in which exceptional pupils are awarded scholarship money.
The M-STAR Entrance Exam, which is part of the scholarship application process, is now available, and it will be administered
at the beginning of each batch. As a result, those with interest in taking part in the courses offered can enroll in them. Additionally, the tutoring fee is very reasonable compared to other tutoring services. We will be conducting the exam on the 4th of December.
M-Star, offered by the best IIT Coaching Institute in Gorakhpur, is in its 7th edition. There are many benefits associated with scholarships, and we have listed some of the most prominent ones here.
Why Momentum:
There is no doubt that this institute plays a very decisive role in determining how children learn to pass JEE. It is paramount that the Test for scholarships and awards allow the students to choose the appropriate stream so that they can learn how to prepare for each stage of the Test properly. Students are now trying to approach differently during competitive examinations, thanks to the institute. If you have the talent and confidence, you can also take the Institute's M Star Skill Hunt test. A scholarship is awarded to the winners.
The Continuous Effort The Institute can be defined as:
Coaching Center provides students with the necessary guidance
and online study materials needed to prepare for competitive exams, entrance tests, and other required assessments for scholarships and other fields, as well as preparing for competitive exams. In addition to academic support, Institution's students get information on career options and the best pathways for them based on their interests and academic achievements, as well as information on educational and career opportunities. The advantages of Momentum are that it can be used for both admissions and career counseling.
There are several perks associated with student scholarships, which are listed below.
Scholarships: Why Do We Need Them?
Obtaining a scholarship can dramatically reduce the net cost of attending a coaching center, so it's critical to understand the process as early as possible. Understanding the total cost of coaching courses will give students a better sense of whether institutes are a good fit for them financially. Learners can visit the official website of the institute to attain information about the M-Star Test. When searching for scholarships, students should consult their institute counselors and should be quick to contact a particular institution's financial help or admissions office. Many people are ready and willing to support students as they transition to the next phase of their lives.
Scholarships and Awards Show Appreciation for your Efforts:
Think about how much gratitude you will receive for succeeding in a scholarship test in which thousands of students participated. Your dedicated work and attention will make this sound exceptional if you are able to achieve the required score for capturing the opportunity.