Here Are Some Tips To Sharpen Your JEE Chemistry Score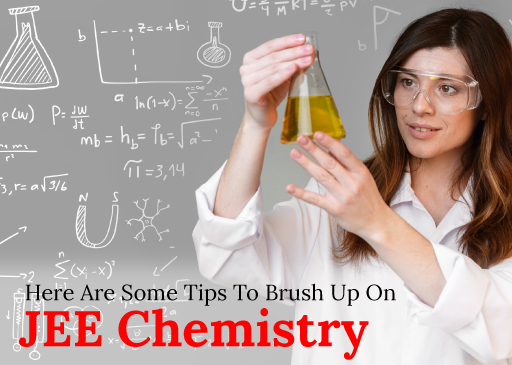 If you intend to study for the JEE or you are already scheduled to take the JEE, chemistry is a crucial topic to master in order to get high scores. Chemistry might be hard to study and comprehend, but the following are some pointers by top JEE Main Coaching in Gorakhpur providers to help you attain that high JEE rank.
Let us look at a few hints for learning chemistry in JEE Syllabus:
Concentrate on the whole topic:
Chemistry must be studied as a single topic that includes all three components: organic chemistry, physical chemistry, and inorganic chemistry. Because these components are interrelated, disregarding just one might cost you scores on the final test. Ensure that you follow a good study flow, such as beginning with physical chemistry and eventually progressing to inorganic and organic chemistry. It is advised that you have a solid grip on every one of these key strengths if you want to do well in the JEE.
Management of time:
It is critical to understand how to manage your time effectively. To choose which subject you should focus on, you must examine the whole curriculum across all parts. You may create a study schedule and allot time for each chapter based on your curriculum. It might be advantageous to organize your process of learning and complete the course more rapidly.
Previous Year Papers:
Many of you may not realize it, but prior-year tests are a vital component of your study resources. Past papers assist you in learning the test format and the types of questions given in the JEE Main & Advanced exams. Students must review the previous year's questions and verify that they can readily answer them. It will also help you understand your strengths and shortcomings in the Chemistry topic. Students may get past year JEE Main and JEE Advanced questions in institutes like Momentum, which offers the best JEE Advanced Coaching in Gorakhpur.
Time-Table:
The next step is to create and stick to a chapter-by-chapter timetable. However, you may always modify it to suit your needs. For example, if you finish one chapter earlier than expected, adjust it appropriately.
Consistent Studying:
If you intend to score well in JEE Main, you must regularise your daily routine as a JEE applicant. Because the Chemistry curriculum is fairly extensive, the one and the only way to succeed in it is via systematic preparation.
Consistent Revision:
Among the most important JEE mains Chemistry recommendations is to go through all of the topics over and over again. Also, constantly review the subjects you've learned so you may be confident with facts.
Study a Certain Selection of Books:
Reading an excessive amount of books will not improve your learning. As a result, you may be wasting your time in this way. Most books include identical content. Therefore, you may choose 2-3 decent books to understand the subject.
Memorize what is significantly important:
There are a number of issues that need particular consideration. You could find it difficult and question how and where to prepare for it. In such instances, you might utilize beneficial methods like making charts and posting them on surrounding walls to help you memorize. You should keep in mind that all of these chapters are simple to pass if you understand them properly.
Start your JEE Main preparations as soon as possible:
JEE Main 2023 is as difficult as this year's test, and inadequate preparedness increases the likelihood of failing. As a consequence, in order to succeed, pupils must properly prepare. In short, adequately preparing requires preparing early.
As early starters, students will have additional time to perfect their preparedness if the race so far has been lost for whatever reason. If a student falls behind in a specific section or subject, there will be adequate time to assess whether mentoring or another kind of assistance is necessary.