Give Your Best Shot in the Upcoming Exam with the Help of JEE Main Coaching Classes- Momentum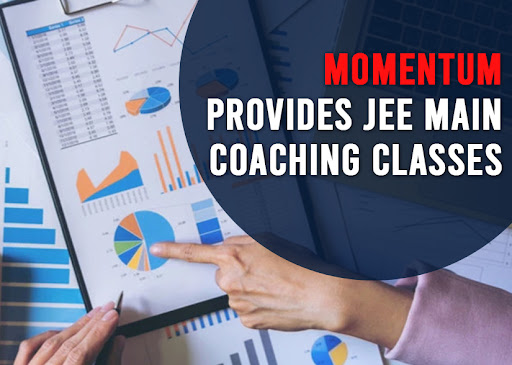 Are you going to appear for the JEE Main Exam? Are you getting nervous as the exam is approaching soon? Well, we have got you covered. Students are no longer alone fighting the battle of competitive exams and stepping into their desired colleges. The team of best JEE Main Coaching in Gorakhpur is always there to become the umbrella for aspirants and to protect them from unwanted rains and thunders of failure and disappointments.
As the date of examination is about to knock at your doors, students should be ready to give their best shot by having a crisp and clear understanding of the whole syllabus. If you are preparing for higher secondary classes, it's time to brush up on your concept. However, if you are still facing any issues to complete your remaining concepts, feel free to connect with the best faculty members of Momentum who hold years of experience and knowledge.
According to the subject matter experts, a student should put their best efforts from initial higher classes to achieve excellent results in examinations. However, it should be kept in mind that last-minute tips and study strategies can do wonders for standing out from the crowd.
That's why to help out aspirants we will be mentioning some secret tips that students can follow easily to win the final race.
Top Secrets for Cracking JEE Main Exam :
Consistency is the key: If you have a definite goal of achieving a higher rank in the JEE Main Exam, then aim for improving day by day. You should have a good track of your performance and should know how to improve them in a limited time. Instead of grasping every concept at the last moment, divide your syllabus and plan accordingly.
Keep Revising your concepts: The exam questions will be based on the fundamentals of your concepts and important topics. You can't get through all the questions that might appear in the exam, but you can revise the concept thoroughly to get a solution for every question.
Don't skip to attempt mock classes: Once the syllabus is completed, students are highly suggested to set the timers and attempt the mock tests and last year's papers. By doing so, the aspirants can know at what point they are lacking.
If you are enrolled with the team of Best IIT Coaching in Gorakhpur, then you have to attempt several test series. Students don't have any option to skip them, all they can do is achieve a higher rank by practicing more.
Follow a healthy lifestyle: Although the JEE Main aspirants are motivated enough to give their best shot in the exams, they somehow forget to pay attention to their healthy diet and good health. Some students also face exam anxiety which hampers their overall performance during exams. That's why it's important to prioritize your mental and physical health for effective results.
The above pointers were just a glimpse of tips and strategies that must be followed by students to crack the exam. However, you should have a proper study plan to get a call from top universities. So, without any second thought, connect with top experts now!