7 Tips to Score Flying Color in NEET Exams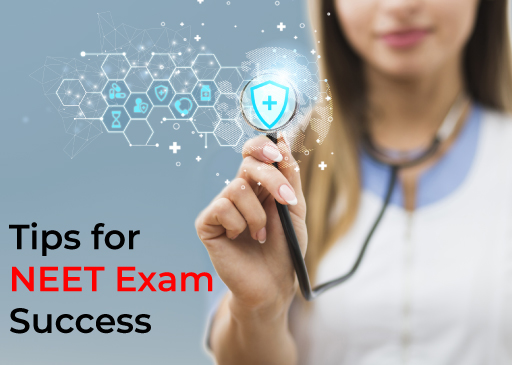 NEET is one of India's most demanding and difficult admission tests. Students may feel overwhelmed and worried with just four days till the test. Students, however, may remain cool and succeed in the test with the correct tactics and advice. Momentum Coaching Institute is the right alternative for Best Medical Coaching in Gorakhpur, as it prioritizes quality and outcome-based training to help students excel in medical admission examinations. We will provide 7 NEET success strategies.
1 Practice Mindfulness:
Mindfulness is a wonderful strategy for lowering stress and anxiety. Spend a few minutes each day using mindfulness practises such as deep breathing, meditation, or yoga. This will help you remain calm and focused over the closing stretch. With regular practice, mindfulness can help you manage your emotions, stay in the present moment, and remain focused on the task at hand. It can help you stay resilient and tackle challenges with a clear mind.
2 Take Care of Your Body:
Taking care of your physical health is critical for test performance. Get adequate sleep, exercise frequently, and eat a balanced diet. This will keep you energized and concentrated throughout the test. Take regular breaks during the test to prevent your mind from getting overwhelmed. Make sure to arrive at the test site early to allow yourself to relax and focus on the task at hand.
3 Go through your notes and formulas again:
Reviewing your notes and calculations is critical for last-minute revision. Make a list of the most significant formulae and ideas, and go through them on a regular basis. This will help you solidify your information and increase your retention. Momentum Institute has grown in popularity among students looking for effective Neet Coaching in Gorakhpur as a result of its consistent emphasis on quality teaching and a comprehensive curriculum. The institute has experienced, dedicated faculty and staff that guarantee quality education for all students. The institute also provides flexible payment options for its students.
4 Practise Time Management:
Time management is critical to NEET test performance. Use a timer to practise answering questions in the allocated time. This will help you get acquainted with the test structure and enhance your time management abilities.
5 Maintain a Positive Attitude:
A cheerful attitude may make or break test achievement. Instead of concentrating on the exam's difficulty, consider your own talents and growth. Imagine yourself passing the test.
6 Seek Help If You Need It:
If you are having difficulty understanding a certain subject or issue, don't be afraid to request assistance. Seek support and guidance from your teachers, friends, or coaching institute. Don't allow uncertainties and concerns to hold you back.
7 Have faith in yourself:
Believe in your talents and your potential for success. Remember all of your hard work and accomplishments. Have faith in yourself and your preparedness. Believe in yourself and be confident that you will reach your goals. With a positive attitude and commitment to your dreams, you are sure to succeed.