The Last Week of JEE Is Stressful, But How Do You Overcome It?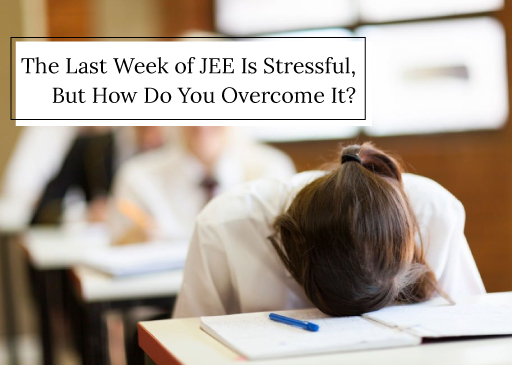 JEE 2023 will be held after a week. The last week before the JEE exam can be a challenging time for many students.With the pressure to perform at its highest and the stress levels soaring, it's crucial to have a plan in place to manage your time and stress levels effectively.
In this blog by one of the best institutes to have the Best Coaching for IIT-JEE Test Series in Gorakhpur, we'll discuss eight tips to help you survive the last week of JEE and give your best shot at the exam.
Prioritize your revision:
In the last week, it's important to focus on revising the concepts that you've already learned rather than trying to learn new ones. This is the time to revise your notes, and textbooks, and solve previous year's question papers to consolidate your learning. You can also make short notes or flashcards to help you revise more effectively.
Time management is key:
Time management is crucial in the last week before the JEE exam. It's essential to allocate your time effectively and prioritize your study topics based on their importance and difficulty level.
You can create a study plan or schedule that works for you and stick to it to ensure that you cover all the topics that you need to revise.
We provide exceptional IIT Coaching in Gorakhpur where we suggest including breaks in your study plan so that you don't feel overwhelmed. Additionally, practice as many mock tests as possible to get a better understanding of the exam pattern and to track your progress.
Eat well and stay hydrated:
Eating well and staying hydrated is essential to maintain your energy levels and staying focused. Ensure that you eat nutritious meals and snacks and drink enough water to stay hydrated. Avoid junk food and sugary drinks as they can cause a crash in energy levels and impact your concentration.
Sleep well:
Getting adequate sleep is crucial for your brain to function effectively. It's important to get at least 7-8 hours of sleep every day during the last week before the JEE exam. Lack of sleep can lead to fatigue, lack of concentration, and poor memory retention.
Practice previous year's question papers:
Practising previous year's question papers can help you understand the exam pattern, and marking scheme, and identify important topics. Solving mock tests and sample papers can also help you manage your time effectively during the exam.
Avoid distractions:
During the last week before the JEE exam, it's important to avoid distractions and stay focused. Avoid using social media, video games, and other distractions that can take away your focus and time. You can also inform your family and friends about your study schedule and request they not disturb you during your study hours.