8 Proven Tips for Scoring High in JEE 2023 Exam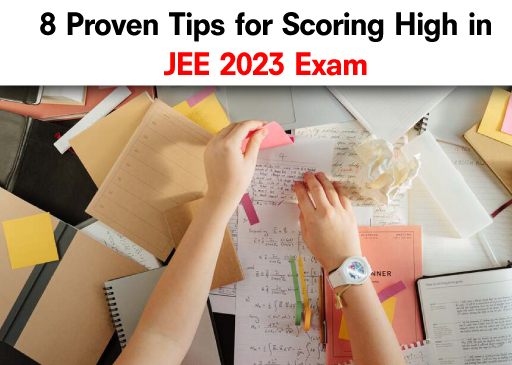 If you are preparing for JEE 2023, there are several things you should incorporate into your daily routine to maximize your chances of success. The following tips and tricks can help you achieve your goal of scoring well in the JEE 2023 exam.
Admission to one of the prestigious IITs is the ultimate dream for engineering aspirants, but achieving it requires the right guidance from Best Coaching for IIT-JEE Test Series and a preparation strategy. Unfortunately, many students make mistakes by adopting ineffective study methods or strategies that hinder their progress and increase stress, ultimately affecting their scores.
To avoid these pitfalls and succeed in the JEE 2023 exam, consider the following tips:
Familiarize Yourself with the Entire Syllabus
A thorough understanding of the entire syllabus is crucial to acing any exam. Keep the syllabus at your fingertips and ensure that you're always on track throughout the preparation process.
Develop Clear Strategies
Many JEE aspirants overlook the importance of strategizing, which is critical for success in a highly competitive exam with thousands of applicants. To succeed, select one of the Top JEE Coaching in Gorakhpur for guidance, create a well-defined strategy, complete the syllabus, and aim to be among the top JEE scorers.
Avoid Over-Learning
Stick to the syllabus without overloading yourself with unnecessary information. Overlearning everything can lead to confusion and negatively impact your performance.
Practice Mock Tests
Although it's crucial to practice mock tests to become familiar with the exam pattern, it's essential not to overdo it. Too many mock tests can limit your self-study time. Therefore, practice mock tests wisely, but don't skip them altogether.
Keep the Marking Scheme in Mind
Never overlook the exam's marking scheme, as it can significantly impact your performance. Prepare according to the marking scheme, including the negative marking, if any.
Consistency is Key
Consistent preparation and a center like Momentum can help you overcome many exam-related challenges, so make it a habit to study regularly.
Avoid Over-Confidence
Overconfidence can be detrimental to success. While confidence is essential, don't become overconfident and neglect your studies or preparation strategy.
Believe in Yourself
Regardless of your situation or preparation level, always believe in yourself and your abilities. Self-belief can help you overcome challenges and reach new heights.
By following these eight tips, you can improve your chances of success in the JEE 2023 exam and achieve your dream of studying at one of the prestigious IITs.